Preparing your machine for the course
Dear all,
This semester you will participate in the Supervised Learning & Visualization course at Utrecht University. To realize a steeper learning curve, we will use some functionality that is not part of the base installation for R. Many of you are already familiar with R. The below guide serves as a point of departure for those who are not. The following steps guide you through installing both R as well as some of the necessary packages.
I look forward to see you all,
Gerko Vink
System requirements
Bring a laptop computer to the course and make sure that you have full write access and administrator rights to the machine. We will explore programming and compiling in this course. This means that you need full access to your machine. Some corporate laptops come with limited access for their users, I therefore advice you to bring a personal laptop computer to the workgroup meetings.
1. Install R
R can be obtained here. We won't use R directly in the course, but rather call R through RStudio. Therefore it needs to be installed.
3. Start RStudio and install the following packages.
Execute the following lines of code in the console window:
install.packages

(

c

(

"ggplot2"

, 

"tidyverse"

, 

"magrittr"

, 

"micemd"

, 

"jomo"

, 

"pan"

, 


"lme4"

, 

"knitr"

, 

"rmarkdown"

, 

"plotly"

, 

"ggplot2"

, 

"shiny"

, 
                  

"devtools"

, 

"boot"

, 

"class"

, 

"car"

, 

"MASS"

, 

"ggplot2movies"

, 
                  

"ISLR"

, 

"DAAG"

, 

"mice"

), 
                  

dependencies =

 

TRUE

)                 
If you are not sure where to execute code, use the following figure to identify the console: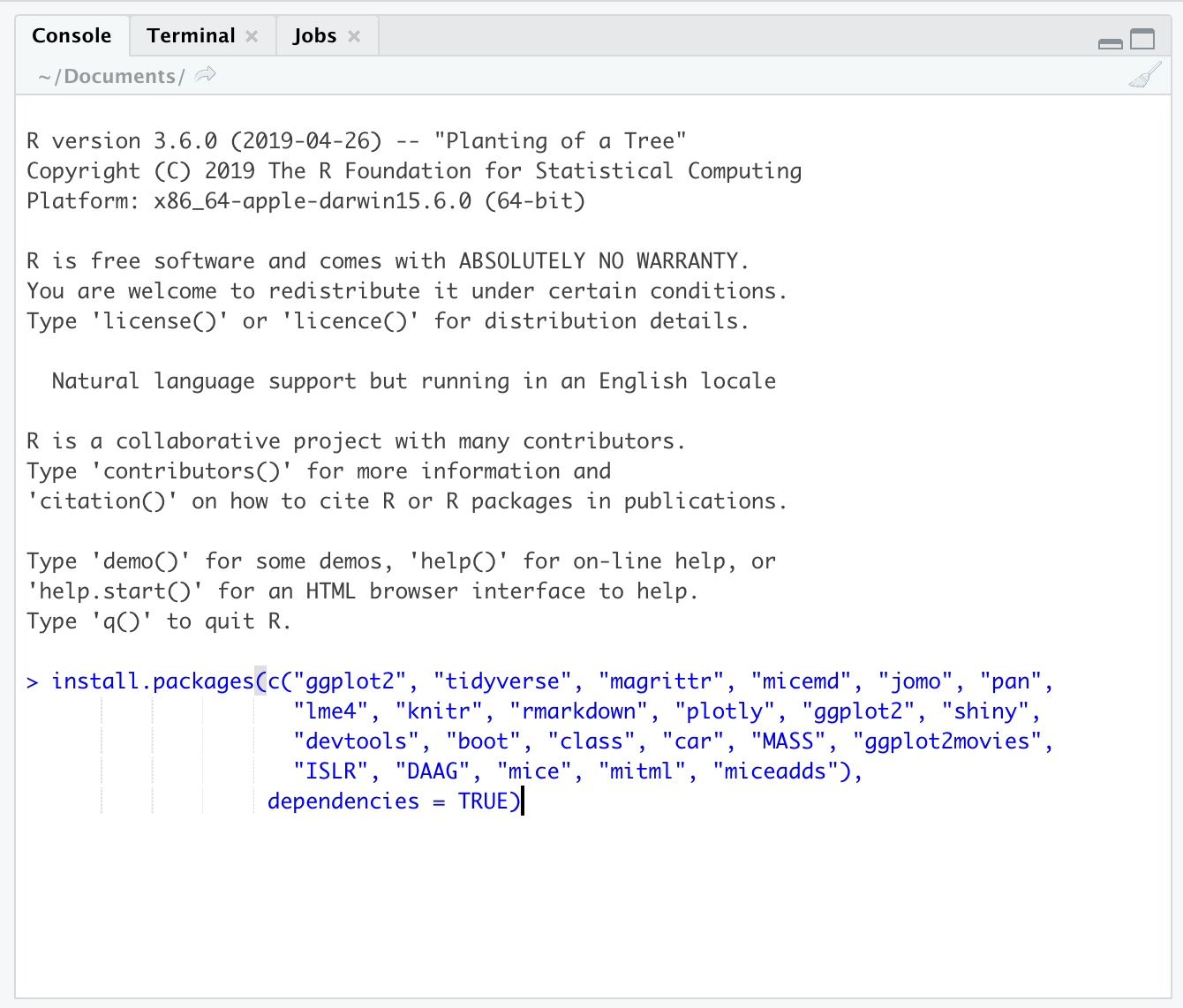 Just copy and paste the installation command and press the return key. When asked

 Do you want to install from sources the package which needs 

/

no

/

cancel)compilation? (Yes
type Yes in the console and press the return key.